HP-F series are heads dedicated  to process fluorinated compounds.
The head as well as each single component, is made by Hastelloy for oxidation and corrosion resistance.
HP-F is compact and round head with high melt flow distributor conicity.
The melt flow distributor design guarantees the highest product concentricity, even with very thin layers, and easiest extraction.
The Distributor as well as the flow section are designed to get the highest product quality and excellent cable surface, reducing the shear  rate and shear stress.
The distance between tip and die can be regulated by axial die movement through the special scaled die nut. The die nut is properly scaled in order to define the die position during the adjustments as well as settings repeatability.
On the front head is placed a "compound containment system" in case of purging through the tools. This system avoids that the head and heater can get dirty.
The head  is equipped with high quality and efficient heating system and it is predisposed for vacuum connection.
The die as well as the melt flow distributor are properly heated.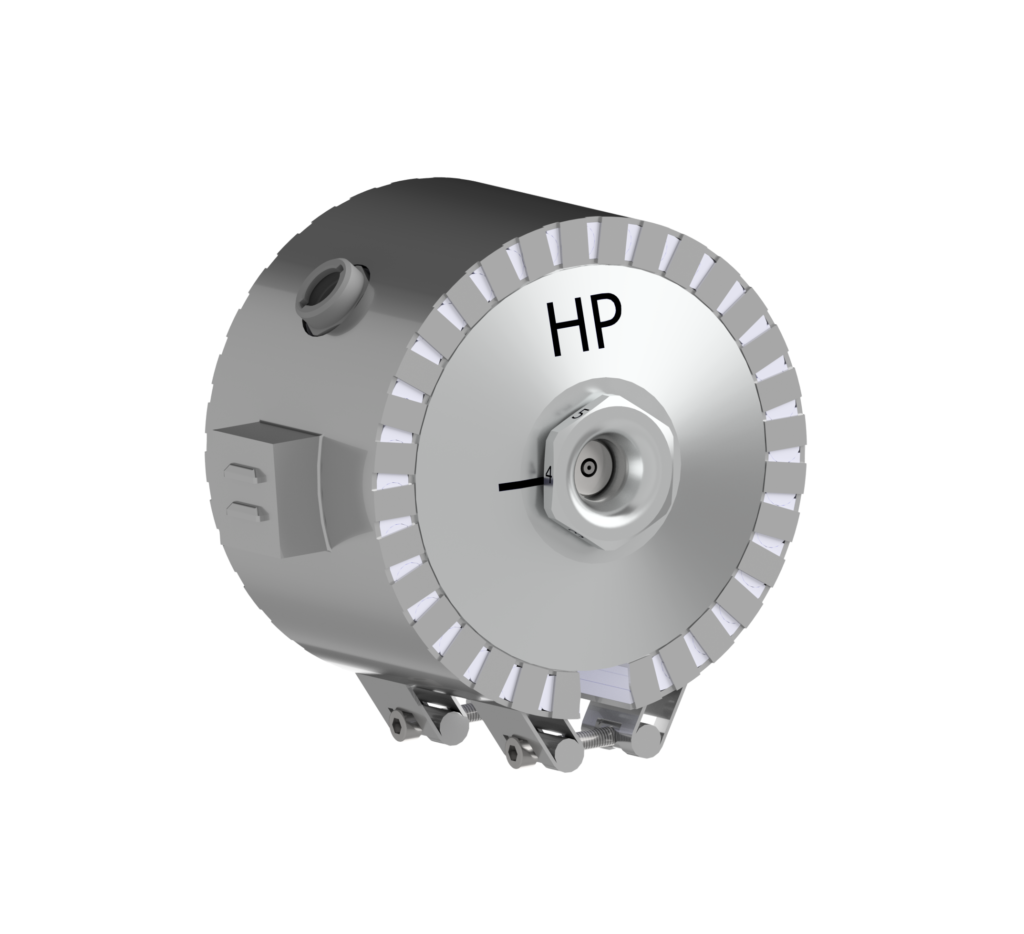 The design and the calculation of the flow section into the head and tools chamber guarantee:
Low shear rate
No Distributor locking/gripping
No material overheating
No stagnation and high material fluidity
Easier assembling and dis-assembling
No plastic sticking on the heaters
Special tools totally made by brass are supplied for cleaning.
CENTERING
Fixed Centring
Manual Centring or "fine adjustment" (Optional)
GUM SPACE
The gum space can be regulated by:
Axial die movement from front by die nut.
The die nut is accurately scaled for proper die positioning.
COMPOUNDS PROCESSED
All fluoropolymers and technopolymers such as:
FEP – PFA – ETFE -ECTFE – X-ETFE – PVDF – THV compounds – PEI – Etc.
HEATING
The head can be warmed up by:
Powered Band Heaters at high thermal efficiency
Rod heaters
The melt flow distributor can be thermoregulated as well by dedicated heater for proper and accurate temperature detection.
SIZE
The dimension of the head is according to the customer need, processing mode, thickness to apply, cable/tube diameter or shape dimension in case of not round product.
OPTIONAL
Head supports, swing arm or trolley
Vacuum connector
Connecting flanges
Extruder clamp/jaw
By-passes
heating for Flow distributor