SINGLE LAYER + SKIN/STRIPES
The HP-S series are compact coextrusion crosshead that can work in single layer with possibility of skin and stripes.
The head are totally made by highest quality of hardened steel with additional surface treatments which provides a micro-hardness > 1600 HV, high compound smoothness and wear resistance.
In order to process very high viscosity compound as well as ABRASIVE compounds, at high speed HP has developed the new generation surface treatment "HPT5X" UNIQUE in the market.
HPT5X is fully compatible with hardened base steel and developed to performing process of  High viscosity compound, even by smallest crosshead.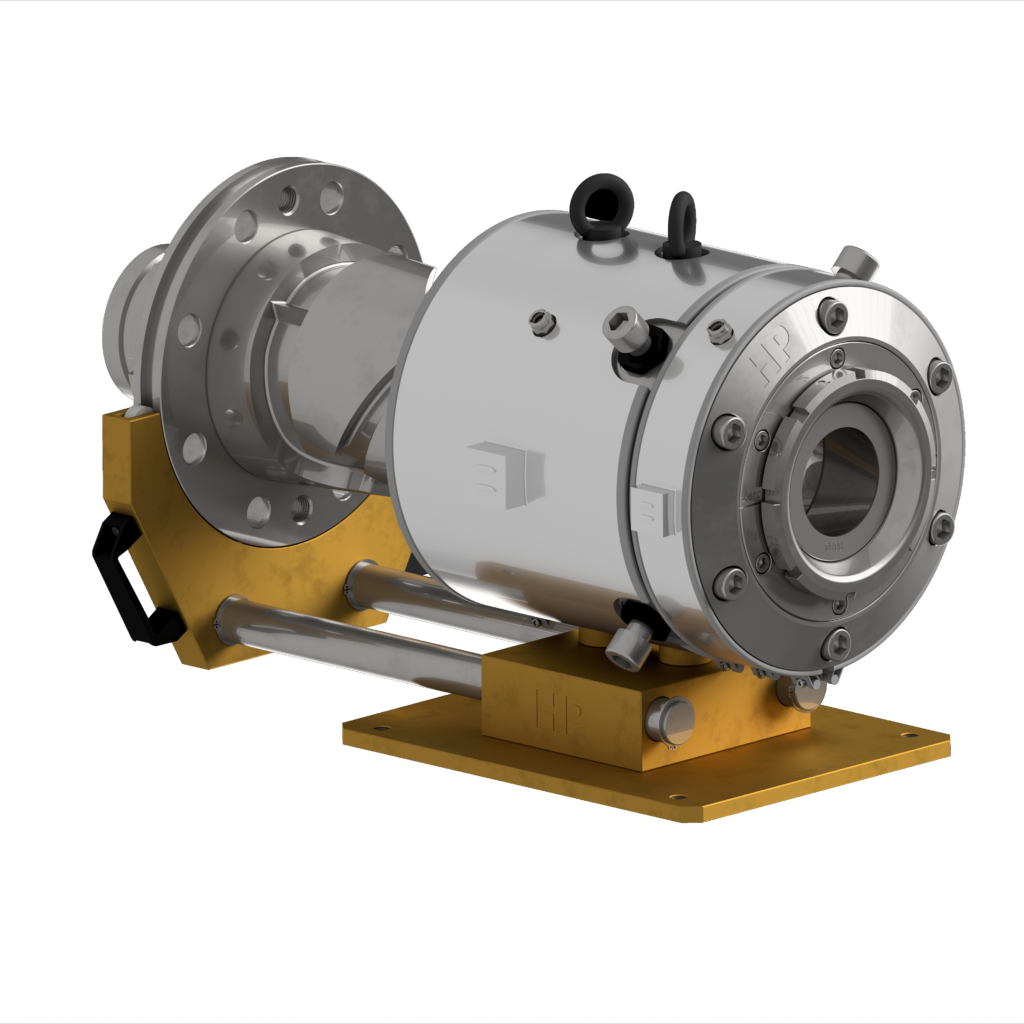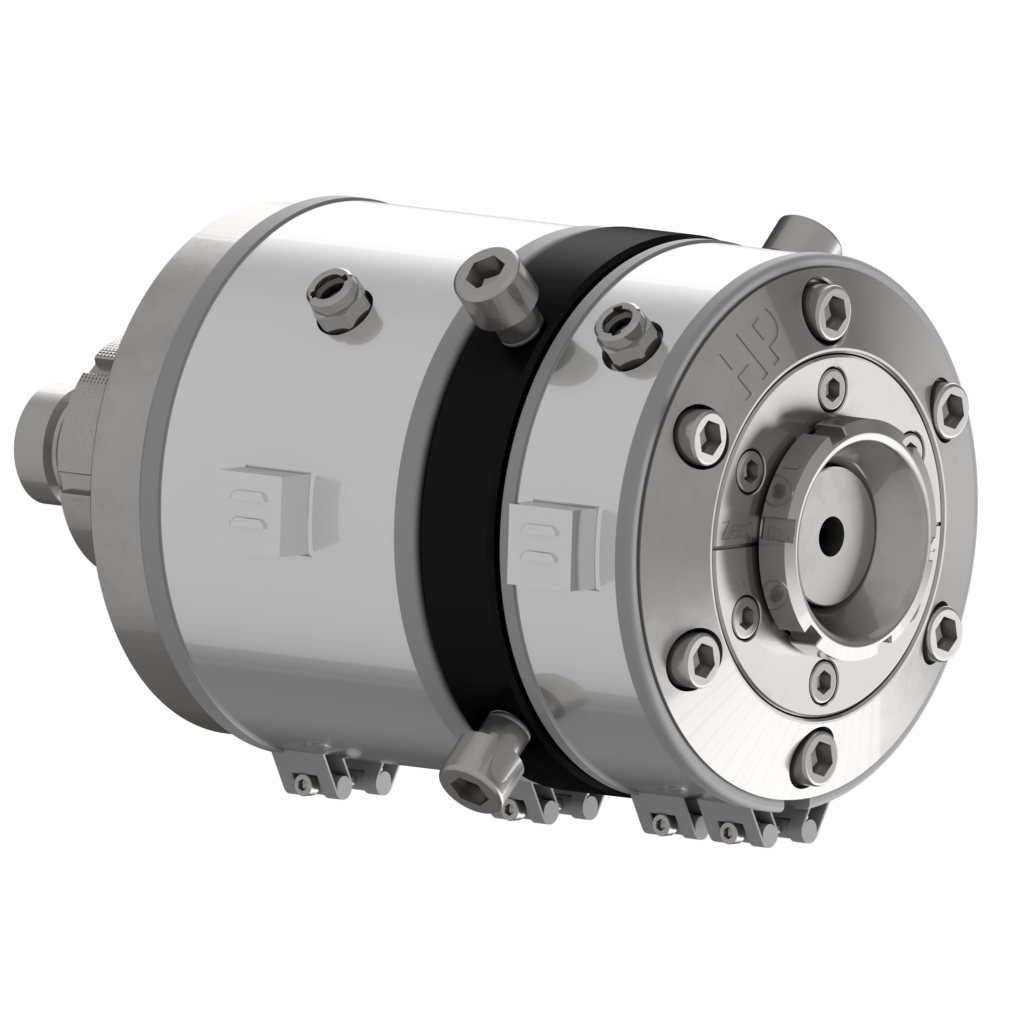 The new additional treatment together with high quality of steel provide:
Micro-hardness 1600< HV< 3000
Coefficient of friction up to 3 times lower than standard surface treatments
Higher chemical inertia which assure the highest compound smoothness
Highest material fluidity
Lower extruder power consumption,
Higher throughput
Lower compound over-heating
Lower working pressure
Longer life time
Up to 1500 Hours of salt-mist resistance
HP-S are manufactured by using latest generation of Automatic machine-tools which are guaranteeing tolerances in terms of microns.
The melt flow distributor as well as the rings for skin and stripes are accurately designed according to the rheology of the compounds to be processed.
The design and the compactness assure a lower residence time of the compound processed as well as an excellent flow distribution.
The head is properly dimensioned in terms of conicity, nominal diameter of the distributors, inner head body, feeding channels, distribution channels, barrier section and flow path, that together with surface treatments assure high production efficiency and excellent concentricity.
The distance between tip and die can be regulated by axial movement of the die and axial movement of the tip holder.
The special additional treatment, the lowest coefficient of friction as well as the strict tolerances assure an easiest tip holder movement and flow distributor extraction without using LEVER that can be dangerous for the operator safety.
The head can be equipped with telescopic support for the melt flow distributors.
The rings for skin and stripes are perfectly in terms of nominal diameter, feeding section, distribution section and barrier gap, in order to guarantee the perfect layer and skin distribution and lower working pressure, without material or colour stagnation.
micro-hardness 1600< HV< 3000,
High wear resistance and smoothness
High concentricity
Perfect layer and skin distribution
Higher Throughput
No Material and no colour stagnation
No Flow distributor or rings locking
No tip holder blocking
Lower extruder back-pressure
PROCESS MODE
The head can work in:
Single layer
Coextrusion (Single layer + Skin/Stripes)
The rings for single layer or skin/stripe are placed into the front head body guaranteeing the compactness of the head. The rings can be easily and quickly assembled and dis-assembled and without removing the front head. The rings are properly designed for excellent flow distribution and perfect skin thickness distribution.
CENTERING
The head are available with different centring system.
Fixed centring
Manual centring from front with fast tools change
Manual/Fine centring from rear (Optional)
 GUM SPACE
The gum space can be regulated by:
Axial die movement from front
Axial tip holder movement from rear.
The design, proper tolerance and treatments allow an easy and light movement of the tip holder without locking phenomena and without using lever that can be dangerous for the operator safety.
COMPOUNDS PROCESSED
The head processes standard compound as well as high viscosity compounds (according to CPR).
PE – PP – PVC – TPU – TPE – PBT – XLPE Visico/Sioplas/Monosil
XLPE FR – LS 0H – XL LS0H – XL PP
HEATING
The head can be warmed up by:
 DIMENSION
Tip Opening : 0,15 mm – 185 mm
Die Opening : 0,20 mm – 250 mm
OPTIONAL
Tip Holder movement from rear for gum space regulation
Fine centring system from rear
Head support and trolley
Telescopic system for distributor support
Special melt flow distributors
Vacuum connector
Connecting flanges
Extruder clamp/jaw
Breaker plates
By-pass
Special treatments and coatings